Womxn of Winter
Join Womxn of Winter!
On Thursday evenings this season, the Womxn of Winter will take the hill!
This new weekly group is an opportunity to foster the womxn winter sports community and will also feature fun events and giveaways! Plus, get to know ambassadors Melissa, Zoe and Mary Campbell from our sponsor Spoke-N-Sport.
Membership is $50. When you join, get 15% off a Great Bear season pass or $15 lift tickets, and $10 equipment rentals on Thursdays and Sundays during the season. Skiers and snowboarders of all skill levels are welcome to join. Womxn of Winter is open to women, trans folks and gender-expansive folks.
Womxn of Winter will kick off January 5, 2023 and run every Thursday through February 23, 2023 with an end of season party!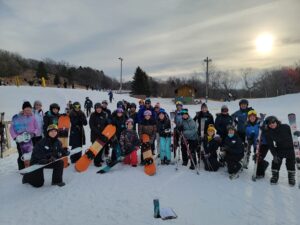 Related Events