The Lodge at Great Bear Ski Valley
Relax & Refuel in Our Comfortable Lodge
Make your day at Great Bear even better by visiting our warm and inviting Lodge. Featuring a wide selection of warm food and hot and cold beverages, the Lodge provides the perfect way to fuel a fun day. So, kick back and relax in front of a roaring fire or watch one of our multiple televisions in the charming comfort of The Lodge at Great Bear Ski Valley.
Great Bear does request that no outside food or beverage be brought into the chalet.
Please contact us at 605.367.4309 with additional questions.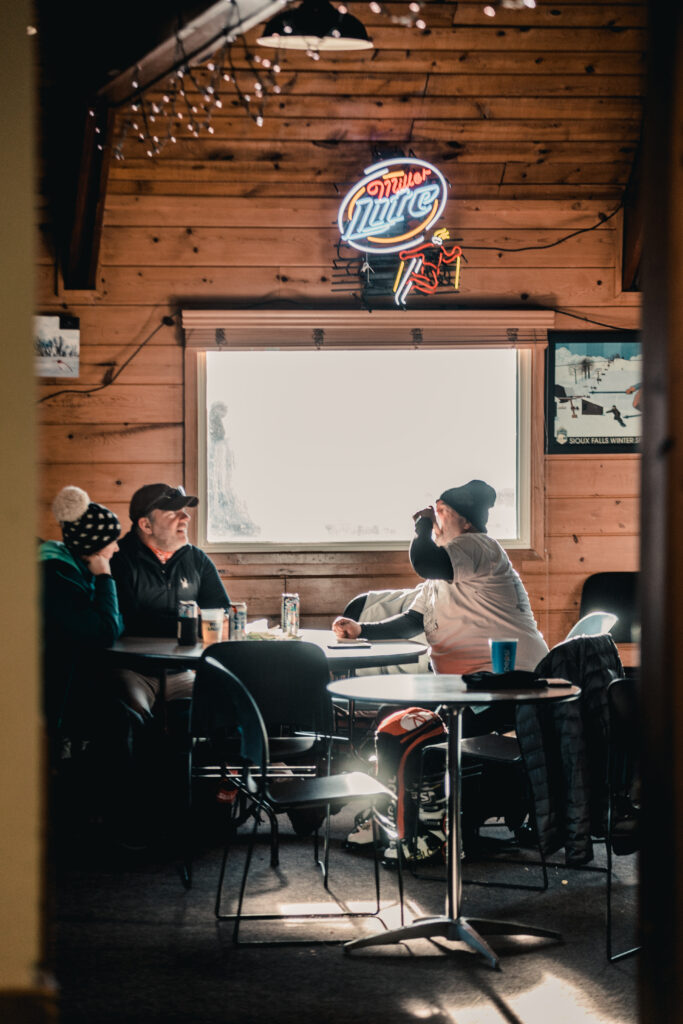 The Lodge at Great Bear Offers:
Hot & Cold Foods
Beverages
Tables & Seats
Fireplace
Televisions
Restrooms
ADA Compliant Facility (elevator available)
Our banquet rooms at the Lodge look over the beginner ski area (bunny hill) and the Kirby Family Tubing Park, so you can watch your family or friends with their first ski or snowboard experience or watch them have fun tubing down our newly improved tubing hill. 
The Lodge at Great Bear Ski Valley is the perfect place for your next private event. We have both indoor and outdoor spaces and full catering options.  We can provide services for birthday parties, weddings (ceremony and reception), corporate events and team building exercises, tubing parties, family reunions, class reunions and any type of event you can think of.
Great Bear does not have any on-site lodging. Check out our Stay & Play packages with Homewood Suites by Hilton in Sioux Falls!
Great food and drinks are all part of a great day at Great Bear. The Lodge opens with the winter season which usually begins around the beginning of December and runs through mid-March (weather dependent). Click on one of the menu options below to see what we offer. Prices subject to change.
2 Eggs, Sausage or Bacon & Hashbrowns "The Roxie"
$7.99
Egg & Sausage Croissant $5.49
Biscuits & Gravy $3.49 full, $2.25 half
Breakfast Burrito $5.99
Breakfast Skillet $6.49
Pancakes $3.49
French Toast $2.49
Cinnobabies $3.99
Bacon $2.59
Fruit $1.49
Toast $1.25
Muffin $3.99
Hot Stuff Pizza (14 in) $26.99
Slice of Pizza $4.99
Hamburger (1/3 lb) 6.49
Cheeseburger (1/3 lb) $6.99
Bacon Cheeseburger (1/3 lb) $7.99
Chicken Nuggets 6 ct $3.99
Chicken Nugget 10 ct $4.99
Grilled Chicken Breast Sandwich $6.49
Chicken Breast Wrap $7.99
Chicken Nugget Wrap $7.99
Chili Dog $4.19
Hot Dog $3.49
Super Burrito $5.29
Chili $2.79
Cheeseballs $8.99
Krinkle Kut Fries (Large) $3.99
Krinkle Kut Fries (Small) $2.79
Pretzel $2.99
Cinnamon Sugar Pretzel $2.99
Pretzel with Hummus $5.99
String Cheese $1.00
Mini Corn Dogs $3.99
Side of Cheese $.75
Chili Fries $4.99
Super Nachos $6.29
Nachos $3.49
Scotch A Roos $3.49
Cookie $2.29
Fruit $1.49
Fountain Pop (Large) $3.49
Fountain Pop (Small) $2.99
Refill $.75
Bottled Water $2.79
Gatorade $3.79
Celsius $5.49
Rockstar $4.99
Calypso $4.79
Nesquik $4.79
Hot Chocolate $1.99 small, $2.49 large
Coffee $.99
Cappuccino $1.99 small, $2.49 large
Juice $4.49
Hot Cider $.99
Domestic 12 oz bottle $4.00
Domestic 16 oz tap $4.00
Import/Specialty 12 oz bottle $5.00
Import/Specialty tap $6.00
Wine $4.00